Portland Motorcycle Accident Attorney
Aggressively Representing the Rights of Injured Motorcyclists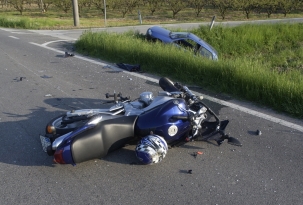 There is a phrase that is commonly used among motorcycle riders, "It is not if you fall, but when you fall." Each year, hundreds of thousands of motorcycle riders are involved in major accidents. Of these accidents, the majority of them are treatable in the hospital, and victims are usually quickly released; however, according to the Highway Traffic Safety Administration, more than 5,000 fatal motorcycle accidents occur each year.
For those who are lucky enough to walk away from an accident, they often suffer from road rash, broken bones, spinal and brain injuries, and other serious and sometimes long-term damages.
Although lane splitting is illegal in Oregon, there are many accounts of drivers colliding with bikers who are in their blind spots or not yielding to motorcycles when making lane changes or crossing busy intersections. Oregon's wet weather conditions can be precarious for motorcyclists and can pose a large threat of single-vehicle crashes.
With little protecting them from impact with cars, pavement, and other stationary objects, riders are at a threat to potential catastrophic injuries. If you or a loved one were hurt, and your injuries were caused by another person's negligence or because of poor road conditions, you may be eligible to receive compensation for your injuries.
How Can a Personal Injury Attorney Help?
After an accident, a personal injury lawyer can help you receive the maximum amount of damages that you deserve. If you are facing expensive repairs to your motorcycle, or your insurance company has offered you an unfavorable settlement after your crash, it is important that you speak with an attorney as soon as possible.
By retaining our firm's legal counsel, you can rest assured that you are working with a lawyer who has your best interest in mind. We have helped countless clients receive the compensation that they deserve post-accident and we may be able to help you as well. Our firm's approach to each case is as unique as the individuals involved. Call our firm today to speak with us and to schedule your free case evaluation.
Legal Help for Motorcycle Injury Victims
Motorcycle accidents such as the following often result in life-threatening injuries:
Rear-end crashes
Single bike accidents
Head-on collisions
Intersection accidents
Left-turn collisions
Limited visibility accidents
If you have sustained injuries from a motorcycle accident in Oregon, it is crucial that you are represented by a highly experienced Portland motorcycle accident attorney. At the Law Offices of Timothy Grabe, we have been assisting victims of motorcycle accidents for more than 35 years.
Common Injuries Caused by Motorcycle Accidents
Head injuries are the most common type of injury caused by motorcycle accidents. Concussions and brain injuries can occur when the accident leads to impact with another vehicle, the ground, or stationary object. Wearing a helmet marginally reduces the risk of serious head trauma, however, it cannot eliminate it. Serious head and neck trauma can result in permanent disability, such as paraplegia and quadriplegia. Road rash and muscle damage are also common motorcycle injuries. These are generally the result of sliding across the roadbed after an accident.
Other common injuries can occur to the:
Elbow
Knee
Wrist
Shoulder
In some cases, a limb is so damaged that it must be amputated.
Fighting Against Insurance Companies
Insurance companies traditionally offer low settlements in the hopes that a victim may accept the offer. Don't be a victim twice. Our Portland motorcycle accident lawyer can protect your right to the compensation you deserve, based on the degree of the injuries and long-term impact of the accident on your life.
Pursue Justice with the Law Offices of Timothy Grabe.
It is important to hire an attorney who knows how to recover high-value settlements or can take a case to court for resolution when necessary.
Attorney Grabe represents clients on a contingency fee basis. This means that you can get the representation you need without paying a dime until and unless we win on your behalf. Contact us today to schedule your free initial consultation with an experienced Portland motorcycle accident lawyer!