Tips to Avoid a Rear-End Car Accident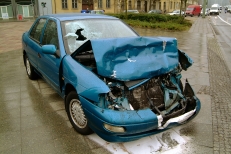 According to the National Highway Traffic Safety Administration, rear-end collisions make up nearly a third of all car accidents occurring on the road today. Given the high frequency of these accidents, it is no wonder that drivers are actively seeking ways to avoid them and keep themselves safer.
Next time you get behind the wheel, implement the following tips to help you avoid a rear-end car accident.
Maintain a safe following distance.
Many rear-end collisions occur simply because drivers aren't giving each other enough space. It's better to be safe than sorry, so keep a wide berth as you're driving. The three-second rule is also beneficial: choose a fixed object on the road ahead. When the rear end of the vehicle in front of you passes that object, begin counting. If you pass the object before getting to three, you are following too closely and should adjust your speed accordingly.
Pay attention to your surroundings.
More than just scanning the road ahead of you, be aware of the road conditions on all sides of your vehicle. Debris in the road, a stalled car, or an accident can all cause you to slam on your brakes, if you are not prepared. Know what you're dealing with on the road and you will be a much better driver because of it.
Keep yourself predictable.
We've all had the aggravating experience of driving behind someone who can't seem to maintain a consistent speed or is braking at the drop of a hat. Not only is this aggravating, it is dangerous and quickly leads to rear-end collisions. Make it easy for others to drive behind you by keeping a consistent speed and using your turn signals when necessary.
While these practicing these tips has proven helpful in countless situations, an unfortunate reality of driving is that no matter how safe you are, accidents can still happen.If you were recently involved in a rear-end collision caused by another driver, get in touch with my firm today. I am an experiencedPortland car accident attorney who is dedicated to fighting for the compensation you deserve.